Illumine8 has been recognized for excellence in digital media, winning two prestigious MarCom gold awards for web design.
MarCom, an international competition that receives submissions from some of the most respected and well-known brands from countries all around the globe, has been honoring excellence in marketing and communications since it began delivering awards in 2004.
The MarCom Awards are lead by the Association of Marketing and Communication Professionals (AMCP), an organization who "administers recognition programs, provides judges, and rewards outstanding achievement and service to the community."
Every year, the organization receives thousands of submissions in the categories of print media, strategic communications, digital media, and audio/video. All entries go through a blind judging process where work is "evaluated solely on its own quality, creativity and resourcefulness" by experienced professionals.
"We are incredibly proud of our team's outstanding accomplishments and thankful for the opportunity provided by the AMCP," said Christina May, CEO of Illumine8. "These awards truly show Illumine8's dedication to delivering cutting-edge industry best practices to our clients."
Illumine8 Rebrand
In September of 2019, Illumine8 initiated a strategic rebranding process that involved an in-depth analysis of the company positioning and a complete redesign of the Illumine8 brand.
The entire Illumine8 brand was purposefully redesigned to convey the company's maturity, experience, and professionalism. New visual elements including a logo, logomark, fonts, color palette, and website were designed to represent who Illumine8 is at its core—an established business consultancy helping family-owned businesses grow through strategic and measurable actions.
The most pivotal component of a successful Illumine8 rebrand was a new digital presence. The Illumine8 website was the centerpiece, where every element of the rebrand came together to speak for the company in a digital format. The redevelopment of Illumine8's website was lead by creative manager, Erik Pitzer, and executed by web developer RJ Hallin. Illumine8 was recently notified that its newly rebranded website won a gold MarCom Award for digital media, as well as a Summit Emerging Media Award.
"It was important to us that Illumine8 have a website designed to the highest standard," said May. "We are an example of excellence in marketing and digital media. It shows our clients, both current and future, how you can drive growth through investment in your online presence—and most importantly, through investment in your brand."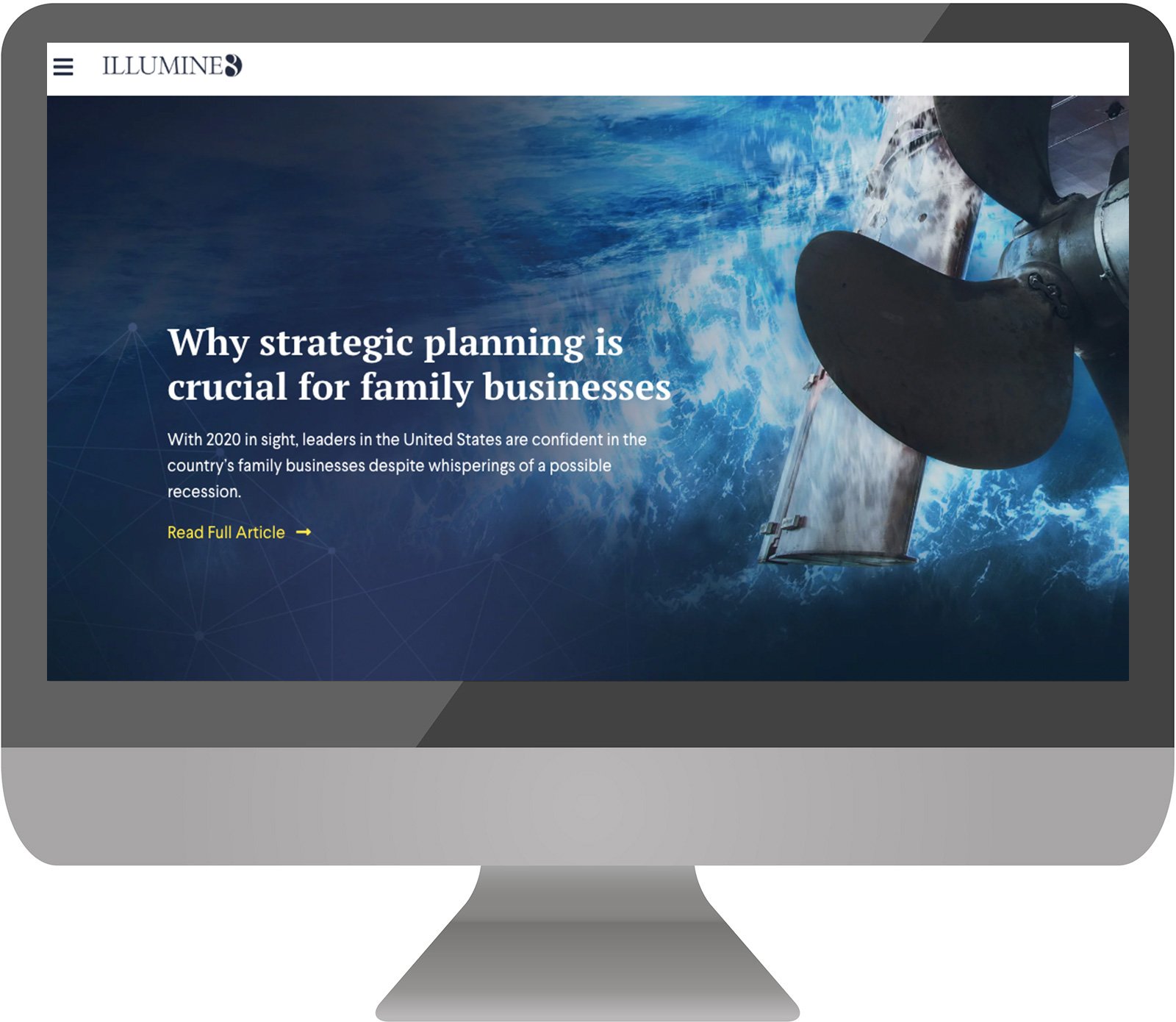 The rebranded Illumine8 site officially launched on August 30th of 2019, marking a significant milestone for the organization.
"This is a site that we can be proud of. This is a site that our clients can be proud of," said Pitzer. "This was a big win for Illumine8."
Kenwood Management Company
Kenwood Management Company was founded in 1997 to attract private equity from long-term investors and provide property management services to the tenants of their buildings in the Baltimore and Washington, D.C. metropolitan area.
After nearly two decades of success becoming one of the premier property investment and management firms in the region, Kenwood approached Illumine8 with several requests to improve their brand's positioning—and fixing their outdated web presence was at the top of the list.
"Kenwood needed a website that matched the status of their company," said David Boudjeda, account manager at Illumine8. "Their outdated online presence didn't speak to the quality and professionalism of Kenwood's operations."
Similar to the Illumine8 website, Kenwood's redevelopment was carried out by Pitzer and Hallin. The newly redesigned Kenwood website won a gold MarCom award, as well as a silver W3 award.
In addition to the website redesign, Illumine8 and Kenwood agreed to begin creating original thought leadership content to drive more organic traffic and improve the brand's positioning even further. This would not have been possible without the website's redevelopment.
"The website redesign for Kenwood did exactly what we wanted it to—it repositioned their brand to speak for the company's prestige and success," said Pitzer. "Now anyone who visits the Kenwood website will leave with an understanding of who the company is, what they stand for, and the level of business they conduct."