Businesses Reevaluate Open Concept Offices
Harvard reported that open concept offices do exactly the opposite of what is intended; open-plan offices decrease rather than increase face-to-face collaboration (Inc). That's right, open renovated warehouses with rows of mid-century modern benches may look perfect on the company Instagram feed but the old-fashioned cubicle nets better performance.
Instead of collaborating, employees retreat to email and messaging. Add the younger workforce's familiarity and comfort with these communication devices and you have a perfect storm for decreased communication, collaboration, and efficiency.
Organizational psychologist Matthew Davis reviewed over 100 studies of open office environments; he found they had a negative effect on attention spans, creative thinking, productivity and job satisfaction (Entrepreneur). Employees who worked in open offices also had higher stress levels, lower concentration and lower motivation than those in standard office layouts.
The Queensland University of Technology found 90% of employees working in an open floor plan office had high levels of stress, conflict, high blood pressure, and more job turnover.
If you didn't take the plunge and reconfigure the office, now would be the ideal time to invest the funds you didn't lose in a renovation and consider a fresh coat of paint. For those that did, consider creating private spaces for groups as an alternative to your open floor plan.
Firms Evaluate Gig Economy Workers and Remote Work
Unlike open-concept offices, the jury is cautiously optimistic about remote work policies. According to stats from Global Workplace Analytics, once employers have a successful experience with a remote work environment, the following was found:
95% of employers surveyed stated that allowing telecommuting increases employee retention rates.
37% of teleworkers interviewed stated they would take a 10% pay cut in order to continue to work remotely. The savings in physically commuting, meals, etc., they believe, are worth at least that much.
Employers also stated that remote workers tend to return to work sooner following health issues.
Managers in large enterprises state that teleworkers are more productive than their counterparts on-site.
If you have an open office concept, enabling a remote work policy might help alleviate some of the negative effects of the office environment. While some companies have been able to move their entire operation remote successfully, many traditional family firms find this transition impossible due to stigma, industry or the actual work itself that must be performed in person.
When considering a remote work policy, keep in mind that what is expected must be clearly defined and you must have training and policies in place around the technology required to make remote work successful.
But what do you do when you consider replacing employees and transition to the gig economy? Caution.
Unlike remote workers, gig economy freelancers are not employees. You can engage them for projects but these freelance workers are hired as 1099 contractors. Simply put, the employer-employee relationship doesn't exist in this scenario. Freelancers do not attend internal meetings, and cannot take direction and training from you and the company.
States like California are cracking down on companies that abuse the gig economy worker savings achieved through freelancers. Consider: am I hiring a consultant for this project who will bring their expertise to the job, or is this project something that requires management and guidance internally?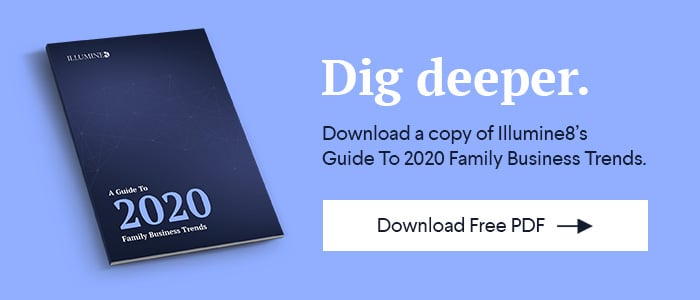 Succession Planning Surge
While the Decade of Disruption (source: MSNBC) brought succession planning into the conversation, the pace is quickening. According to PwC:
62% of family businesses expect upcoming family members to gain outside work experience
58% of family businesses have succession plans, however, most are informal
47% of next-generation leaders take on non-senior roles in the business
39% sit on the board of directors
The boomer generation started retiring in 2011 and will continue the retirement snowball through 2029 (US Bureau of Labor Statistics). Many generational companies are facing a passing of the business to the next generation of leaders, but over half are unprepared for that transition.
Investment in expertise to help lead succession planning has never been more critical — not just for the business but for the market. Family businesses account for 64% of U.S. gross domestic product, generate 62% of the country's employment, and account for 78% of all new job creation (Family Business Center).
Identifying the next generation of leaders and creating a cohesive transition of power is paramount for your family firm, if you find yourself within 10-15 years of retirement.