Breaking the chains of competition strategy
When Bowie parted ways with his manager, Tony Defries in 1970, he became CEO of his brand and brought his artistic sense of adventure to the management side of the business. This included taking huge risks — some that did, and others that didn't pay off. When he passed in 2016, David Bowie was estimated to be worth $230 million.
His genre- and business-bending legacy came from a growth mindset. Founding UltraStar in 1998 an internet service and online fan club, which is known as Live Nation, Bowie was known to take risks without a thought to what anyone else was doing.
"David was very involved in the direction of UltraStar — he attended meetings and got involved in artistic decisions," says Ron Roy, a partner in the venture. "Once exposed to the power of direct online communications between artists and fans, David realized that music was about to change forever."
Despite the fact we know we should take risks, we spend endless hours looking over our shoulders, wondering what the competition is doing, what is their pricing strategy, their marketing, their advertising. We comb our "competitors" for clues. However, this comes naturally to us.
Our "System 2" is the part of the brain we identify more closely with as opposed to our automatic brain, "System 1." This is the conscious, reasoning self that has beliefs, makes choices, and decides what to think about and what to do. Unfortunately, this brain is naturally lazy.
As we encounter and learn new things, our brains see patterns and the information moves from System 2 to System 1 - thus becoming automatic. And from that time forward our brain is constantly looking for patterns, things we have come to know as "true". This is why it is hard for us to learn new skills the older we are, address what we know as "known fact", challenge concepts or closely held beliefs. Our brain is simply being efficient - looking for the path of least resistance. This is why we jump to conclusions and make assumptions.
Consider your obsession with competitors. Why would you expend the energy to create original work, if that work has already been done? This method of problem-solving is ingrained in us from childhood, reinforced through college and now every answer is just a google away.
The answer is never that you want something because the competition has it, rather it is because your System 1 brain has a hand on the wheel and your System 2 brain doesn't mind a backseat driver. Mimicking is the path of least resistance — our lazy brains taking over in our business decision-making.
Ziggy Stardust wasn't born from the idea that the Rolling Stones were creating alter egos in their music. Ziggy was David Bowie's original idea brought to life. The system 2 brain had both hands on the wheel when Ziggy was born.
In that now timeless interview, Bowie said, "You move into something because it's a passion ... You are making a statement, a passion."
All businesses are born from the idea that we want to create something — a legacy — beyond ourselves. Call it your Ikigai or your Why or your purpose - that deeper meaning is truly what drives our most rewarding experiences. Competition can be healthy, but in the end, none of us have true "competitors." Intrinsic competition comes from within, it is not externally motivated. Align all that you do to your true mission — not your peer's.
Find your internal motivation and your obsession with external competition falls away, as it is meaningless at the more important primal level. That internal competition is the only competition that counts.
So what is it about what you/your company/your work that gets you up in the morning? What is your internal heroic cause?
Because according to Bowie we can be heroes, just for one day.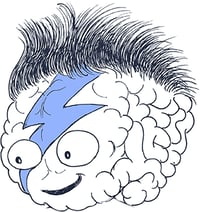 Illustrations by John Gummere