Leaders are reinventing what it means to perform in the field of business. Calling plays from the sidelines instead of relying on our playbooks, the old benchmarks are no longer valid.
After six months of "pivoting" and studying the performance data trends in consumer and employee behavior, we have observed three important changes leaders must embrace to improve their business performance in the now: the next normal KPIs.
Let's take these from the locker room and onto the field of play.
Next Normal KPI One: Reimagining Localization
The near shutdown of travel has redefined "local" to all consumers. Hyperlocal communities have seen a resurgence of activity. Consumers are looking for ways to connect — and not through the phone. While screen time is up, app time is down.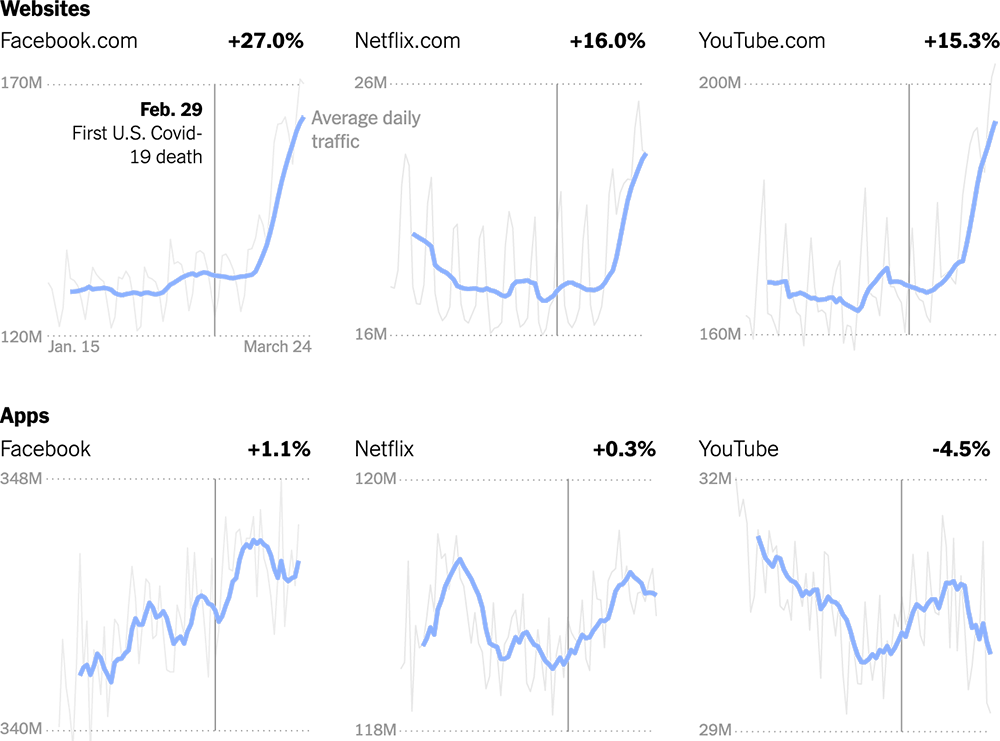 Source: New York Times
And not only are we entertaining ourselves on larger screens, but we are also spending more time via video connecting — outside of endless work Zoom meetings.

Source: New York Times
The play CEOs, marketers, sales executives, and customer service representatives need to call tells us that mobile-only is not the only focus moving forward. Mobile was a convenience for a population on the move. Consumers are not moving. The total consumer experience needs to reconsider a more immersive experience — and larger screens.
For businesses that are seeking to retain and expand their communities and customer bases, rethinking localization is paramount.
Consider:

Hyper-individualized content to neighborhoods and micro-communities
Leveraging new local networks and services such as NextDoor, not just geographically targeted Google and Facebook Ads
Reaching B2B leaders geographically now needs to take home addresses in consideration, not just the business address. Now is not the time to send a basket of fruit to the office.
Consider newly vacant retail spaces in retail footprints that are hyperlocal to markets you wish to reach.
Partnerships with hyperlocal companies that support your mission and your customers.
Immersive experiences across multiple platforms. Try new channels to reach your customers that you may not have embraced in the past: video, TikTok, video chat instead of text chat platforms, augmented reality applications for products and even virtual reality. Look at the creativity of the events and conferences industry, who has had to completely reimagine what it means to communicate with groups.
Next Normal KPI Two: Measuring Trust at the Individual Level
Never have we managed from a space where personal safety on all fronts has been important to all our communities — both employees and customers. The lasting trauma from recent events including COVID-19 and discussions on inclusion, equality, and diversity will have lasting effects in our businesses and communities.
Marketing professionals and executives have so often wrongly characterized employees and customers in "groups." Marketers call these personas or target markets. HR groups employees by teams, departments, personality-type tests like the DISC assessment. All these tools are useful and have their advantages. However, they fall short of considering the individual experience. None of these tools address the humanity of feeling safe in an environment.