When December comes around many of us are busy working on marketing plans, goals and strategies for the coming year. If you are in the creative industry you are also eagerly awaiting the Pantone Color of the Year announcement. Today it was announced that the color for 2015 is Marsala – an earthy wine red. What does this mean to marketing professionals? Surprisingly, a lot can be inferred by Pantone's choice for the color of the year.
A Bright 2014: Radiant Orchid Pantone Color of the Year
For those that follow this blog, you read last year that the color of 2014 was Radiant Orchid. A confused Pantone color that couldn't decide if it was classified as a pink or purple tone (for the record, Pantone refers to Radiant Orchid as part of the purple color family). You probably noticed a lot pink (or purple) in clothing design, home interiors and other consumables this year. The mood of Radiant Orchid was said to encourage and reflect a universal feeling of creativity and innovation. This year we saw the bright creativity of the world cup in Brazil, the sweeping movement of the ALS Ice Bucket Challenge, and the innovation of the new technologies including Apple's iPhone 6, Samsung Galaxy and tablets.
A Rich 2015: Marsala Pantone Color of the Year
According to Pantone, Marsala "enriches our mind, body and soul, exuding confidence and stability." This earthy wine red is very versatile, rooted and sophisticated. We think Marsala is going to be an easy design cue to integrate in many environments. Marsala lends itself well to both rustic and classy settings. Essentially it is a color you can dress up or down. It works well in different textures and is a dynamic neutral that can be easily integrated into existing color palates as a color refresher. Perhaps Marsala is the new grey for digital design?
Marsala works well with a myriad of other harmonic and complementary colors. It combines with neutrals such as gray, shown below:

Marsala also works well in monochromatic applications: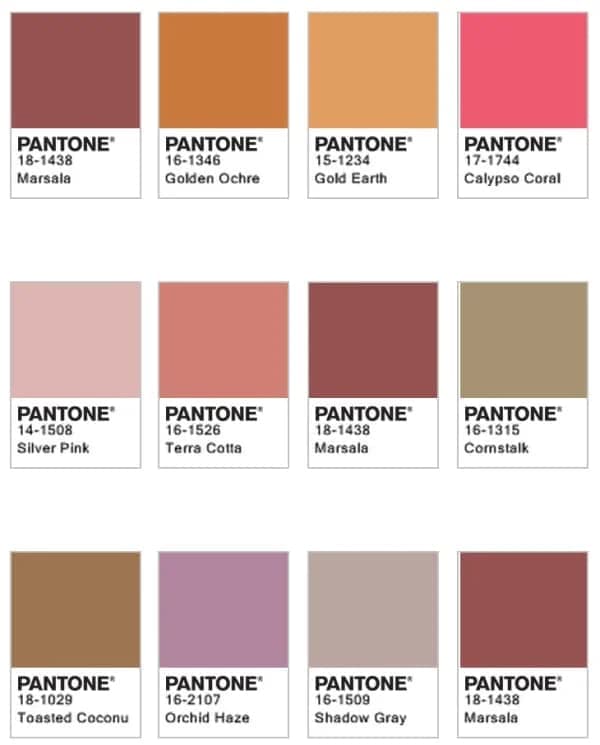 Green and Brassy tones set off Marsala: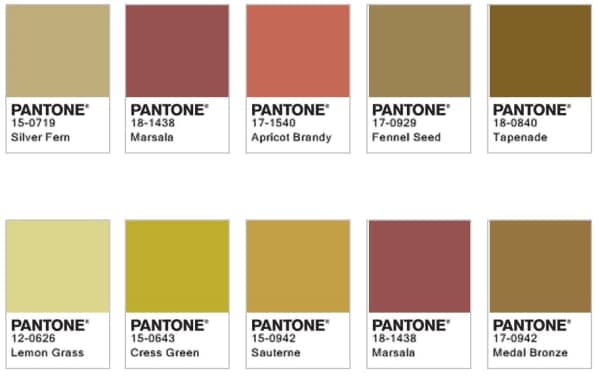 Marsala is highly compatible with complementary colors that are in the blue and green families.

Marsala for Marketing Design
The Pantone Color of the Year affects many industries including fashion, beauty, interiors and graphic design. As a rich contrasting color Marsala is great for catching the eye in graphic design. Not overly bright like its predecessor Radiant Orchid, Marsala can be incorporated in more digital design applications such as logos, web site color palates, landing page design, call to action buttons, and digital display advertising. As a serious neutral it has a broader appeal and more applications than its predecessor.
Ten Takeaways for Marketers
Pantone Color of the Year is said to embrace the international mood as a color. It reflects what is taking place in the world and what people are looking for. The Color of the Year crosses all areas of design as an expression of mood and attitude on the part of consumers. If that is true, should we expect our marketing personas to reflect a Marsala mood? Here are our Top Ten Inbound Marketing Tips for Marsala in 2015:
Consumers are craving – literally. You can't say the name without getting hungry. Marsala is an earthy neutral that works well with restaurant, food, and kitchen subjects.
Luxury - Marsala lends itself to the luxuries in life – fine wine, warm leather, a rich meal. Luxury marketers rejoice.
Get grounded – Marsala's terracotta tones embrace the earth mother in all of us. From organic brands to eco-green brands, Marsala is a fantastic neutral base for campaign messaging.
Education – Marsala enriches the mind, body and soul – can you picture leather bound books, libraries and the halls of your university days? We certainly can. We think Marsala is an excellent match with educational offerings.
From the Old World – Marsala is a well-traveled color, not bright or boisterous like it's predecessor Radiant Orchid. When you encounter Marsala you sense its worldly experience.
Travel – From stone facades, to terracotta rooftops Marsala is a part of the fabric of old and new architecture across the globe. A favorite color of both natural and manmade structures the world over.
Tradition – Marsala a mature color. One look and you know that Marsala is rooted in the past, but looks forward. A great color for instilling old values in a new way.
Walking with Confidence - Marsala is an old soul, not bright and flashy but confident in its own being.
Stability – After years of pensive colors reflecting the mood of the economy followed by bright colors heralding hope, it is refreshing that a stable, confident color comes along. Marsala isn't boastful like Emerald Green and Tangerine Tango was, nor is it as creative as Radiant Orchid this year. Marsala has a self-assured classic confidence that lends itself well to established and professional branding.

Mature Beauty – Beauty is in the eye of the beholder, but with a growing market of mature boomers growing by the minute, this older Generation C needs a color that reflects the maturity of the population. Marsala is a perfect fit for established age products.
How will you incorporate Pantone's Color of the Year, Marsala, into your marketing campaigns in 2015? Comment and let us know!
About Pantone: The Pantone Color of Year is a 15-year tradition published by the Pantone, Inc. The company is best known for its Pantone Matching System (PMS), a proprietary color space used in a variety of industries, primarily printing, though sometimes in the manufacture of colored paint, fabric, and plastics.
About the Author, Christina May: Christina is managing partner and CMO at Illumine8 Marketing & PR, an integrated inbound marketing agency located in Frederick, Maryland. A recent GALA award winner with 14 years experience in integrated marketing strategy; she is a popular speaker on topics that include real estate marketing, integrated marketing communications, inbound marketing and digital conversion strategies.