Illumine8 wraps up the NAHB International Builders Show in Las Vegas.

A record-breaking NAHB International Builders Show, in its 10th year co-dated as Design + Construction Week, is in the books. The 3-day show featured continuing education classes, experiential learning with IBS supersession and learning Labs, debates, town halls, and demos.

Over 1,300 companies exhibited their service, products, and brand on the showroom floor, including spotlight areas for start-ups and new products.

Held at the Las Vegas Convention Center, this massive event coincided with the National Kitchen & Bath Association's Kitchen & Bath Industry Show, the National Hardware Show, the International Surfaces Event, and the Las Vegas Winter Market. It seemed nearly everyone in the vicinity of Vegas and the strip was in some form associated with the building industry.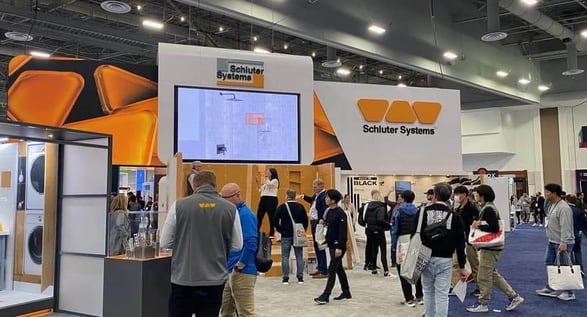 From the Show Floor: Solution-Centered Products and Services through Revenue Operations
The industry is hungry for efficiencies and opportunities to grow and identify key revenue operations metrics. Builders and remodelers of all sizes are eager for information on new technology, business processes, and cost-cutting measures, and IBS show floor exhibitors are listening. We found suppliers and vendors using buzzwords such as "risk management" and "planning." Product trends included a renewed emphasis on data solutions, with today's builder placing more weight on marketing metrics and ROI. A "better way" to streamline your operations both with your employees and customers, driven by data and digital processes, is what we at Illumine8 refer to as revenue operations or "RevOps.". Illumine8 offers RevOps services specific to the built environment, including custom reporting for first-party data, real-time digital dashboards, technology stack audits, HubSpot CRM implementation, and integrations. It's exciting to see that the industry is catching up with the digital revolution as cost savings and time-saving technology is being accepted now at the vendor level. Can we finally say goodbye to the fax machine?
Pro Builder Show Village: Manufactured Homes
One of the must-see areas of the International Builders' Show was the outdoor exhibits in the Pro Builder Show Village. Among the decking, demos, and outdoor living products, five manufactured homes were on display that pushed the boundaries of design and technology. As the pandemic brought to light challenges with stick-built home production, these modular products were a sight to behold.

One of the five homes at the Pro Builder Show Village was at the top of our "must-see" list - the "foldable" home. Founded in 2021 in Las Vegas (how convenient), Boxabl is a small house that folds up, ships on a flatbed trailer, and then quickly unfolds at the job site. We had the chance to tour Boxabl's "Casita," also marketed as an ADU. As we keep our eye on the modular/manufactured home market, it was exciting to see the livability of this home, with its 9-foot ceilings, appliances, cabinets, and built-ins. Reading more about this company, Boxabl has filled orders for the federal government, shipping 156 houses on a Florida military base. Boxabl's other charges include workforce housing for a mining company, and D.R. Horton, the largest homebuilder in the US, ordered a hundred for a build-for-rent affordable housing village. Speaking to the reps in person - this startup is growing fast and furious, and we look forward to following their journey.
Growing Your Network and the 20 Club
Networking is an intangible but invaluable benefit of attending the International Builders Show. Builders meet suppliers, and marketing firms meet clients. Discussing feedback, making connections, and most importantly, getting facetime. Sharing a meal, toasting to your partnership, and interacting in person is where the "magic" happens at the International Builder Show.
Suppose you're looking to position your building or remodeling business for growth or keep the momentum from the International Builders Show throughout the year. In that case, NAHB's 20 Club is a significant next step and a great way to lay the foundation for the 2024 International Builders' Show. NAHB states, "Just like a house needs a firm foundation, every business and business leader needs access to education, latest industry information, and strategic opportunities." NAHB's 20 Club connects industry-related CEOs with other CEOs of similar sizes and operations but outside their competitive market. Statistics indicate that 20 Club members perform better than non‐members in operational systems, revenue reporting metrics, and long-term success. Sharing successes and challenges with other CEOs or leaders in the built environment - through your IBS connections will continue the show's benefit momentum year-round.
IBS: The Essential Industry Experience
As in most things, you get out what you put in. At the International Builders' Show, your investment in time and education will return a deeper appreciation for the building industry and the lengths the National Association of Home Builders provides to educate, innovate, and advocate on your behalf. With Illumine8's flagship office located near NAHB's corporate office, many folks we ran into at the airport work for NAHB. With their relief and excitement of achieving a record-breaking show, they are already looking forward to 2024. So, back to the grindstone to keep growing, innovating, and building the American Dream! See you next year!