May is National Remodelers Month, which times perfectly with the upswing of residential construction projects due to the warm weather. With the rise in temperatures comes an expected rise in revenues for contractors.
According to the Leading Indicator of Remodeling Activity released by the Remodeling Futures Program at the Joint Center for Housing Studies of Harvard University, Americans' spending on value-adding home improvement and repairs will rise 7.2 percent through March 2019. This totals $341 billion.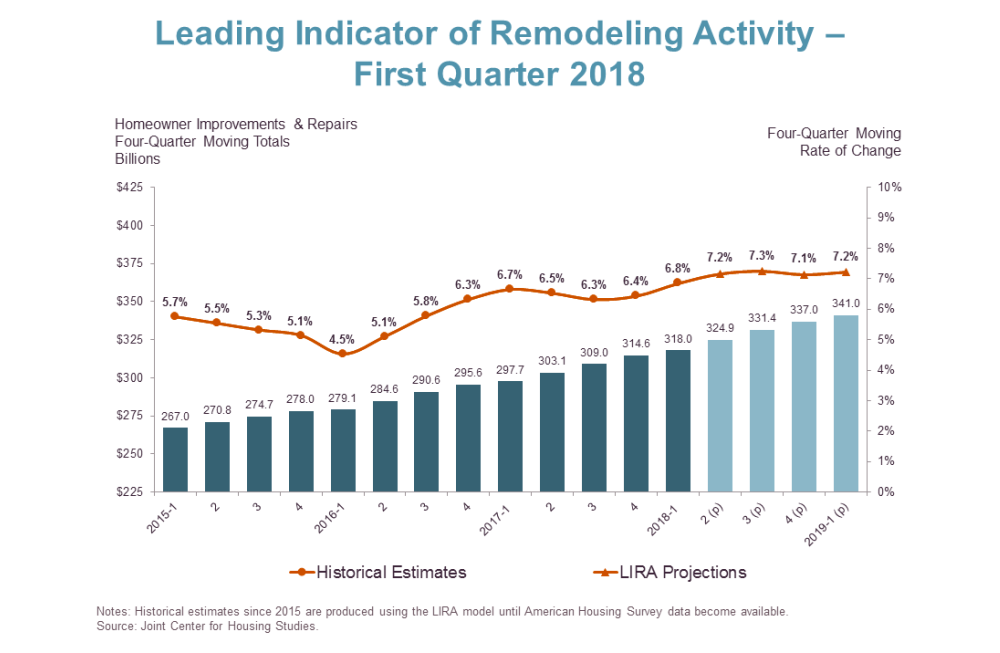 When the busy season occurs, the push to continually fill your pipeline with leads relaxes. After all, the phone is ringing.
Warning to all contractors and remodelers, from roofing and gutters to additions and landscaping! Don't let the warm weather lull you into a false sense of security. The best time of year to convert leads for you is while home improvement is on your potential customers' minds.
Here are easy tips to leverage National Remodelers Month all year long:
Leverage Membership Content
Are you a member of the National Association of Home Builders (NAHB) or a local chapter? You have access to a step-by-step guide for National Home Remodeling Month and tips to tap into national promotion efforts. A free online toolkit includes the following:
Social media marketing graphics and sample posts
A consumer brochure on finding the right professional remodeler
An infographic highlighting aging-in-place statistics
An article about the benefits of green remodeling
Lists of top remodeling projects
NAHB Remodelers also hosts free professional development webcasts. Even if you don't have the time to watch live, recordings are usually emailed after the broadcast. Review them when you have a free moment.
Learn more about NAHB Remodelers online or in the Facebook or LinkedIn groups.
Lastly, the National Association of the Remodeling Industry offers a marketing kit for members that includes press releases and social media posts.
Leverage PR
It's not often a contractor has cause to send out a press release, but National Home Remodeling Month gives you an excuse. Download a standard press release from your remodeling or building association and fine-tune it to your business.
In 2018, public relations doesn't mean only press releases. Take the announcement to social media with a month-long campaign that highlights the remodeling industry.
Consider each week as a separate theme: Safety, green practices, before-and-after, and more. If you're a contractor in the remodeling industry, focus on that messaging in addition to your regular posting schedule.
Showcase Case Studies
Showcase your best work in interactive case studies on your website. These show off your best work and succinctly frame the challenge the customer faced, your remodeling process, and the successful solution to their pain point.
Case studies take any of the following forms:
Downloadable PDF
Longer interactive webpage
Before-and-after gallery
Video interviews of the customer discussing the process
In the remodeling industry, before-an-after photos are powerful when telling the story of an existing structure turned new again. Promote these stories during National Remodeling Month and all year long through your inbound marketing program. Use emails, press releases, and social media.
Parade Of Homes Events
Take a hint from the new construction home industry and host a Parade Of Homes. Choose projects near each other, so your guests complete the "parade". This also helps with parking and staffing concerns.
Considering that existing renovations require coordination with customers who are living within the homes, ensure that the owners are comfortable with the situation. Allow them to determine which rooms are available for viewing and be sensitive to families with pets and children.
Parade Of Homes-style events require planning and 6 to 8 weeks of promotion to ensure a good turnout.
Never planned an event before? Hire a professional.
If you prefer to manage things in-house, assign your staff to ensure things go off smoothly and RSVP leads are captured.
Prepping for the event includes ensuring that your work looks its best. Do a pre-event walkthrough with the owners to discuss details and offer before-and-after cleaning services and home staging, so your work looks its best.
If you're offering refreshments for guests, buy food that won't stain if spilled.
Lastly, have a member from your staff on hand to answer questions, collect leads, and oversee the event. Don't forget to follow-up with those new leads afterward!
Focus On Homeowner Education
Industry advocates for National Remodelers Month use the annual campaign to advocate for reputable contractors and remodeling companies. Focus on engaging homeowner education highlights the benefits of using a qualified professionals who hold the right licenses, insurance, and more.
Use thought leadership marketing tactics to show a deep knowledge of industry best practices through blogs and videos. Take part in a local home show as a speaker or team up with your local membership association for other speaking opportunities.
Use this opportunity to showcase your company's talent and safety record. Demonstrating the difference between jobs completed by a licensed professional versus an unscrupulous and unprofessional contractor sets your company apart from the competition and elevates the industry.
By leveraging PR and local builder association messaging in May, National Remodelers Month exposes your brand during the beginning of the busy season. Case studies, homeowner education pieces, speaking engagements, and events drive leads during National Remodelers Month and all year long.