54% increase in year-over-year (YOY) sales


442% more SQL's generated than previous traditional marketing campaign


Sales Qualified Leads (SQLs) saw a 50% weekly increase


Website traffic growth of over 200%

Summary
Brunswick Crossing is an award winning master-planned new home community located in the Baltimore Metropolitan area featuring multiple new home builders including Ryan Homes, Dan Ryan Builders and K. Hovnanian builders.
In the midst of COVID-19, the community developer, Pleasants Development, wanted to move forward with a Summer 2020 lead optimization campaign to sell new homes but was impacted by on-site viewing availability and staffing.
Illumine8 worked with Pleasants to build an automated sales lead generation campaign by mapping the strategy and logic of their buyer's journey to automatically send qualified sales leads to the appropriate home builder's sales team. This increased both efficiency, follow up and qualified buyers.
This digital transformation included an updated user experience (UX), improved search engine optimization (SEO), intuitive lead automation and nurturing technology that automatically determined which sales team should receive the lead based on strategy and logic implemented by Illumine8.
The results of the six week campaign were immediate, with Brunswick Crossing's Summer 2020 Campaign generating 442% more leads than the 2019 Summer Campaign.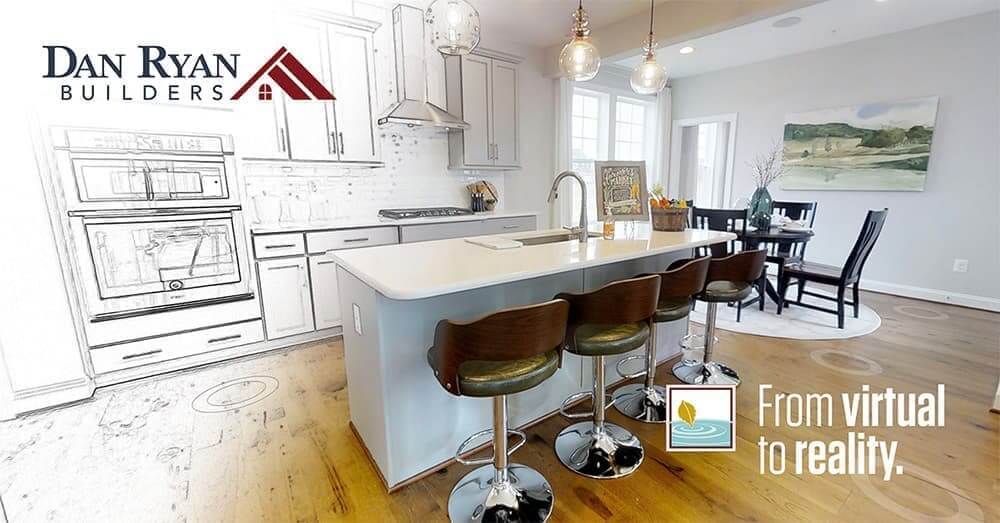 The "From Virtual To Reality" campaign focused on digital transformation and the virtual homebuying experience.
The Challenge
Brunswick Crossing, like many essential businesses, had to adapt to being able to schedule model home visits instead of a stream of foot traffic. In order to offer a variety of ways to view homes, Illumine8 created a virtual campaign and an appointment follow-up system that allowed visitors to pre-determine when they could schedule a site visit with a representative for each of the three different builders.
In order to make these appointments as efficient as possible, screening mechanisms would need to be mapped out to help guide potential customers to reach out for sales follow up. Through the investment into digital transformation and lead automation, Illumine8 was able to provide the following solutions:
Challenge #1: Attracting New Contacts
Challenge #2: Removing Manual Follow-Up
Manual lead follow-up is expensive and often takes a lot of manpower. Before the digital transformation, lead nurturing was conducted by Brunswick Crossing's Community Concierge working with three different companies each with their own set of sales representatives.
The lead automation removed this layer of follow-up and created a better experience through cohesive, consistent, and timely follow-up emails to the leads and builders.
As part of the automation campaign, these emails were sent automatically, without the need for any manual work. Following the sales enablement logic, this would allow the customer to select qualifications to ensure they were reaching the builders sales team, while also providing an immediately better user experience as well.
Challenge #3: Qualifying Sales Requests
Brunswick Crossing has three new home builders who receive qualified leads The lead automation needed to segment form submissions based on home type interest, so that the follow-up email containing all of the lead's information was sent to the correct builder(s).
Segmenting form submissions also allowed for leads to receive follow-up emails containing information that is specific to the home type and models that they are most interested in.
Solution #1: Online Design & Development
The design and development of the online digital transformation, was based around the customer journey and relevant content. The end product was an easy-to-navigate, clean online presence that has all the necessary functions and information to guide the user through the buyer's journey.
Solution #2: Lead Automation Workflows
Once the new website was developed, strategic workflows were developed and implemented to nurture and send leads to the sales team automatically. These systems continued to be improved and optimized over the campaign as new data came in and through an ongoing feedback loop with key sales representatives.
Solution #3: Standard Operating Procedures (SOPs)
The final step in the digital transformation process was creating SOPs that explained how lead automation works and what the builder representatives can expect. This document contains everything that the sales teams need to know in an easy-to-understand format.
The Results
Aside from improving the sales department and user experience, the digital transformation created profound change in the performance analytics of the website. By strategically looking at how digital transformation could improve both the customer's user experience and sales operations, Illumine8 was able to provide immediate value across the entire operation by reinventing the digital customer journey and automating the lead follow-up to produce sales qualified leads.
During the 2020 six week Summer campaign, we were able to increase the results of the 2019 six week summer campaign by 442%.