On September 12th, 2016, HubSpot released its annual State of Inbound report.
As promised, Illumine8 will be blogging about aspects of this comprehensive survey that will provide actionable insights to our clients and businesses in the Frederick, Maryland area and Washington DC corridor.
What is State of Inbound?
HubSpot's State of Inbound report is an annual, global survey of individuals within marketing and sales functions from small to mid-size businesses operating in the B2B and B2C spaces.
The 2016 survey had 4,500 respondents from 132 countries. The majority of the respondents were from organizations that don't use the HubSpot platform. No incentives were paid to respondents and responses were collected via email, blogs and social sharing.
What Kind of Businesses and Individuals Were Polled?
A large portion of respondents worked at smaller to mid-sized businesses.
2016's respondents share a similar business profile to many businesses we work with and run into in the Frederick, Maryland and Washington DC region:
83% of businesses had less than 200 employees
66% of businesses reported generating less than 99 million in revenue
40% of respondents held VP or C-Suite level positions
State of Inbound Insight #1: Marketing and Sales Team Alignment Critical to Marketing Success
Alignment between marketing and sales is critical to marketing strategy success and increasing lead conversion.
74% of organizations reported that lead conversion was their top priority for 2016, which is not surprising, with increased web traffic a distant second at 57%.
However, misalignment between marketing and sales teams continues to be a common problem among organizations seeking to achieve their top goals.
Now, what does that mean?
Misalignment between the marketing and sales functions means lack of communication and clarity around what defines a qualified lead.
If marketing and sales do not have clearly defined protocols and lead definitions, it's nearly impossible to say what a quality lead is and it's even more difficult to close as no one knows where a lead sits within the sales funnel.
Knowing a lead's position in the buyer's journey is essential for implementing effective marketing strategies and closing techniques.
When marketing and sales don't communicate well, marketing strategies are more likely to fall flat and sales tend to close at a lower rate. When organizations align the marketing and sales functions, results improve dramatically.
Businesses with an Inbound approach and tight alignment between marketing and sales were 5 times more likely to report their marketing as effective than organizations with Outbound marketing programs and misaligned marketing and sales teams.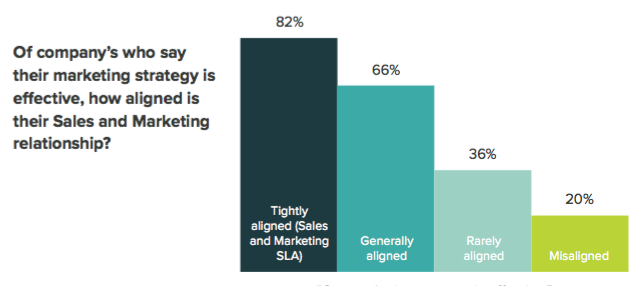 State of Inbound 2016's data supports this assertion:
Only 22% of respondents stated that they had tight alignment between marketing and sales
Of those that reported effective marketing strategies, 82% reported tight alignment
For those reported misalignment between sales and marketing, only , 20% felt their marketing strategies were effective
If you combine an Inbound marketing approach with tight alignment via a Service Level Agreement (SLA), 84% of respondents felt their marketing strategy was effective.
Okay, So What Does an SLA Have to Do With Alignment?
In the context of State of Inbound, tight alignment means that the organization has established an SLA, or Service Level Agreement, between the marketing and sales functions.
The SLA agreement establishes agreed-upon goals for marketing generated leads, defines what a Marketing Qualified Lead is (MQL), tracks the number of MQLs handed off to sales and measures how many leads the sales person or team closes.
The SLA is a consensus-building document that eliminates information silos to create transparency between marketing and sales. The SLA ensures both departments speak the same language, know a lead's proper positioning in the sales funnel and, furthermore, how that positioning needs to influence their interaction with a lead.
Without an SLA, small to mid-size—and even large business—will inevitably struggle to market effectively and close at a higher rate. Moreover, misalignment between marketing and sales makes tracking ROI even more difficult than it has to be.
But My Business Doesn't Have Departments…
That might be so for the time being, but it's also not relevant.
While you might be just a one or two person marketing team joined at the hip to one or two sales team members, it's essential to start codifying your goals and processes now.
The big takeaway: alignment and clear communication is critical to marketing and sales success.
There's no time like the present to start working toward stronger alignment.
Start small and work with the end in mind.
First, you'll need to take a cold, hard look at your marketing efforts. To get started analyzing your marketing efforts, ask yourself this question:
Is your marketing intentional and consistent, for the most part, or primarily accidental and disjointed?
Once you wrestle with and answer that question, consider these recommendations and observations:
If you have a consistent marketing program up and running, focus on developing an SLA to better align your marketing and sales teams, even if they are small (the SLA can evolve over time as these teams grow).
If you fall towards the accidental and disjointed side of the spectrum—i.e. no formal marketing program—you need to take the proper steps to formalize your marketing system to establish a program baseline.
Remember, alignment can only be addressed when you make marketing and sales programmatic and have systems to align.
Whether you're at the stage where alignment is necessary, or you're seeking a way to market more consistently, reach out to us — Illumine8 has the experience and know-how to help you establish and SLA or build out the consistent, effective and ROI maximizing marketing program you've envisioned.