What you do with your data matters
It's easy to collect data these days. We're overloaded with it every day. The problem isn't gathering data, it's interpreting it to tell the truth, not just what you want to see. Reporting and analytics have become one of the more hot button topics over the years as everyone tries to figure out what metrics really matter. Should we be looking at website traffic, or bounce rates? Email opens, or social engagements? Deal sizes, or close timelines? What if everything matters, but the story isn't laid out properly for interpretation?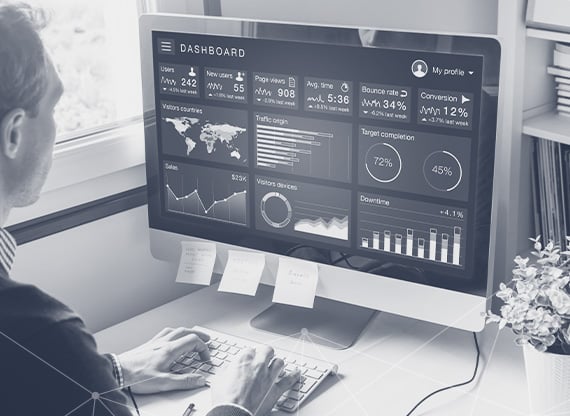 Numbers don't lie. But, what they represent might.
It's not enough to see the data anymore. It has to be presented in a way that makes sense and tells the right story. While the old adage still rings true, "numbers don't lie," what they represent is no longer always depicting the right message. For example, driving thousands of visitors to your website every day might seem like a major win for your company, but if they don't engage past the home page, was any of that traffic really worth it? Having a comprehensive reporting and analytics system that not only brings in the data but crafts it into actionable insights is the key.
We can prove it
Illumine8's reporting and analytics systems help you put together the story you need to tell. We look at ways to put all the data in a single dashboard that makes it easy to see what's going on with all the metrics that matter most to you and your business. Don't dig through spreadsheets and comb through numbers to find the points that interest you. Automate reporting dashboards and prove your metrics.
"Bad data costs businesses $3 trillion a year."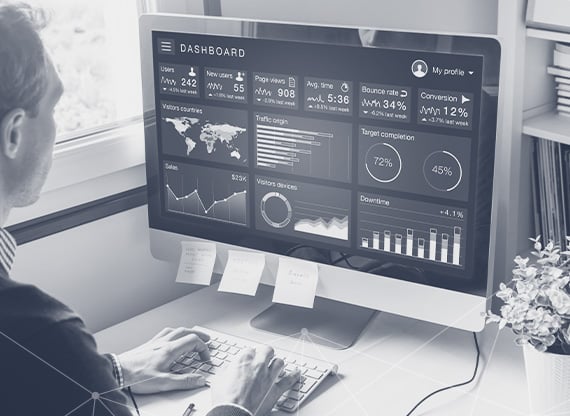 Report with confidence
Accurate information fuels your business.
Establish milestones and measure success
Reporting and analytics mean very little without some direction and indicators of success. Illumine8's reporting and analytics framework doesn't just show you the numbers. We help you establish goals and determine what metrics are going to prove when you've achieved those goals.
All the important metrics in one place
Imagine seeing all the most relevant data in one simplified dashboard, then filtering down from there with other metrics necessary to run your business. With our enhancements to your existing technology, or implementation of new technologies, we work with you to customize your dashboard experience so you always see exactly what you need to.
Actionable Insights from Data
Let the data guide your growth framework
Interpreting data is important, but turning it into action plans that help your business grow is even more important. With our reporting and analytics process, we help you dive deeper into the numbers that matter to find the actionable insights that guide your business growth.
Show a return in real-time
If you can't see and prove the return on investment (ROI), how will you measure your successes? Illumine8 can help you set up reporting that shows the immediate returns of your business efforts. Using automated analytics and reporting sent daily to key stakeholders, proving value is easier than ever.
Explore all our resources
Interested in reading more about Illumine8 and our thought-leadership content?
Read through our Kenwood Management Case Study to learn how we accomplished digital transformation through a series of marketing and automation projects, or learn about how you leverage agency partners to increase ROI.
Whatever your goal, we have solutions to help you achieve it.