At end of last summer, Illumine8's home state of Maryland unveiled a new license plate design, replacing a six-year run of a plate design commemorating the War of 1812. The new plate design is fine: a waving state flag that fades into a white background and re-introduces "Maryland" in the classic Garamond Swash Italic.

But it got me thinking: Could I do better?

And while I still haven't answered that question, it led to my discovery of the State Plates Project, a collaborative effort spearheaded by graphic designer Jonathan Lawrence.

Lawrence corralled a group of 50 designers including himself—one for each US state—to take a stab at reimagining his or her home state's license plate design.

These are my nine favorites:
9. Montana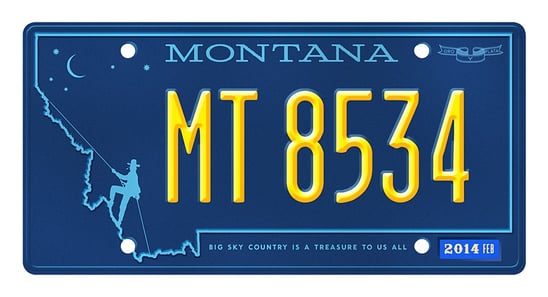 Enlarge [+]
Designer: Kyle Poff
"The state's name is derived from the Spanish word montaña which means mountain. And boy are there a lot of them there. Several nicknames surround the state and the two that stuck out to me are 'Big Sky Country' and 'The Treasure State'. I noticed that the edge of the shape of the state line actually looks like a grumpy old crotch of a man looking downwards and couldn't break that thought from my mind until I decided that I need to make a lonely old treasure-hunting mountain dweller climbing up the side of that yonder left side of the state line and let the rest of it be his big starry sky that he loves. Oh yeah and…'Oro Y Plata' graces a banner on the Montana flag and translates to Gold & Silver."
8. Oklahoma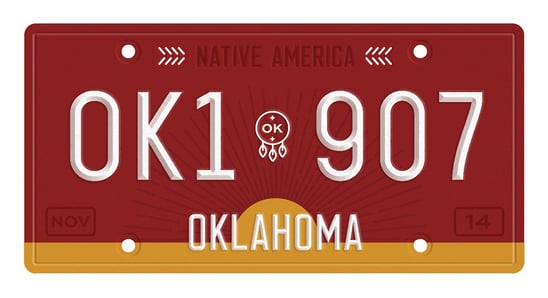 Enlarge [+]
Designer: Brittany Robertson
"This redesign aims to capture the rich Native American spirit and history of Oklahoma. An earthy palette represents the smoky red dirt roads and blazing sunset of the state's South Central American landscape. The sun motif was inspired by the 'sunbelt' graphic plates first issued in 1982. The heritage is present also in the detail work sitting center on the plate which emulates the unique state flag. Oklahoma's name is derived from the Choctaw words kola and humma, meaning 'red people.' There are more than a handful of fun OK phrases, but it felt appropriate stay true to the most common to grace Oklahoma's state plates: 'Native America.'"
7. North Dakota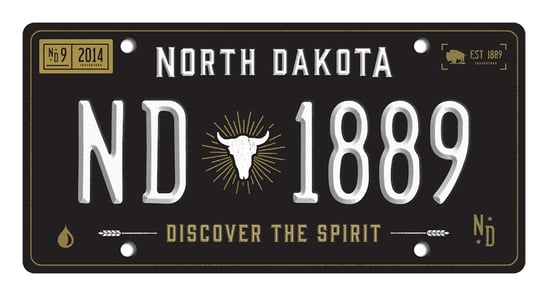 Enlarge [+]
Designer: Andy Boice
"I have had buffalo grazing in my own backyard for as long as I can remember. The buffalo has always been the most iconic and all-encompassing representation of the plains in my opinion."
6. Missouri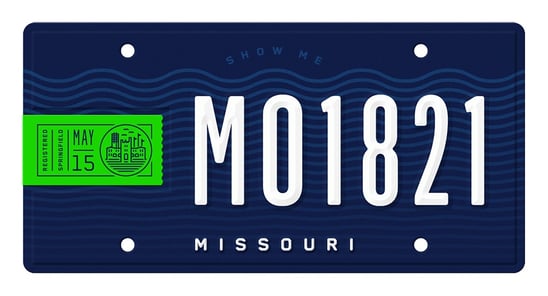 Enlarge [+]
Designer: Drew Roper
"There's a little bit of everything in Missouri; the Great Plains in the north, the Ozark Mountains in the south, and the bodies of water that crisscross the state. But it's the rivers that truly dominate the geography. Growing up I remember the switch from a dark red plate to a blue and teal plate with a river motif, and for some reason I thought they were the coolest thing ever. The three greatest rivers in North America run through Missouri, so it only made sense to pay homage to them."
5. Maine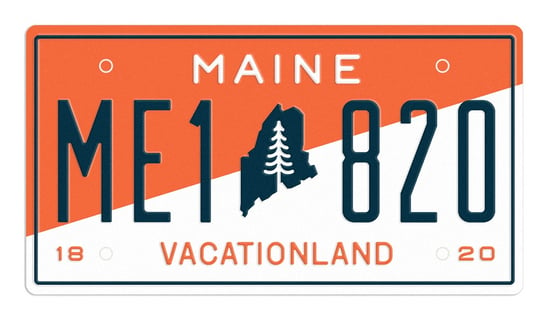 Enlarge [+]
Designer: Sean Ryan Cooley
"In conceptualizing a redesigned license plate for Maine, the primary focus was to revitalize successful elements from past plates in a simple and contemporary manner. Maine is infamously known for their lobster as well as picturesque scenery giving way to the state's nicknames, 'Vacationland' and 'The Pine Tree State.' 'Vacationland' has be an essential component featured on the license plate for 80 years, hence being maintained on the redesigned plates. The typographic solutions reference the 1925 (numbers) and 1936 (lettering) plates. Whereas the coloration is directly derived from Maine's plates utilized in the 1990s; the 2-tone composition itself is reminiscent of lobster buoys. Drivers would have the ability to choose between 2 subjects for their plates, the lobster and the pine tree, both encapsulating Maine."
4. Texas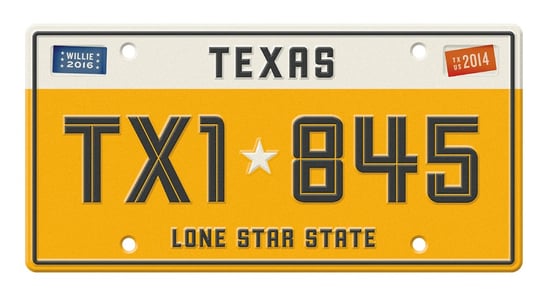 Enlarge [+]
Designer: Aaron Eiland
"Simple, legible and to the point with a color nod to a well known Texas brand. This plate would look at home in Austin or El Paso."
3. Nevada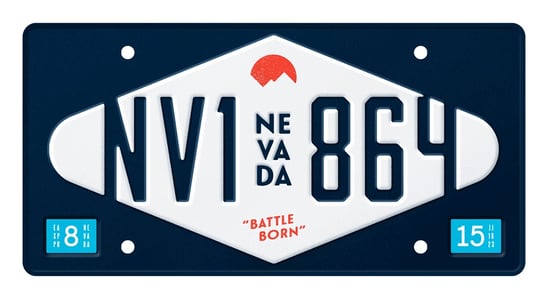 Enlarge [+]
Designer: Ben Stafford
"Even though 75% of Nevada residents live in Clark County (Las Vegas and surrounding cities), the state boasts beautiful mountain ranges, lakes and deserts. I wanted to highlight the midnight blue skies and contrast the hot red sun. Instead of embossing the characters, I chose to emboss the negative space–a subtle nod to a familiar state shape. The state motto, 'Battle Born,' comes from the fact that the state was formed during the Civil War."
2. South Carolina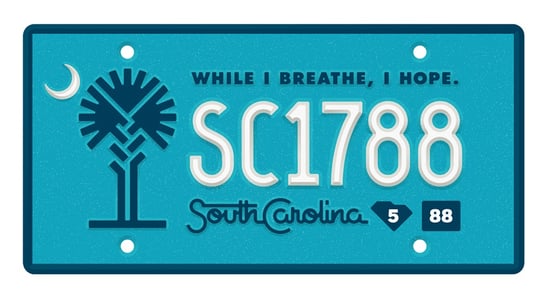 Enlarge [+]
Designer: Jay Fletcher
"South Carolina, 'the palmetto state.' We've got palmetto trees everywhere – in the woods, at the beach, on t-shirts, on keychains, on our state flag, on our existing license plate, and pretty much anywhere else you could possibly think to show state pride. It's a symbol that's been done to death here in SC, but one you rarely (if ever) see done well. So to that end, I figured there was no sense redesigning the wheel, but instead took this project as a challenge to take what we've already got and bring it up to speed."
1. Oregon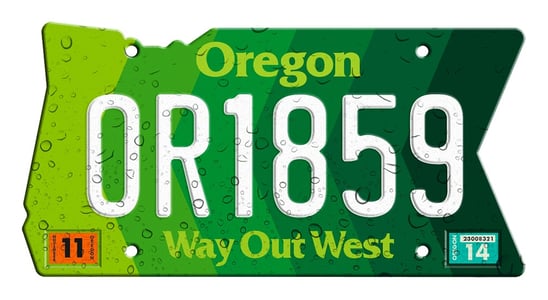 Enlarge [+]
Designer: Aaron Draplin
"I've always been jealous of that incredible Northwest Territories polar bear-shaped plate our friends to the north get to tack on their snowmobiles and snow rigs. Not only did the thing say 'Cold' but it also screamed, 'Polar Bear!!!' Functional, and beautiful. So when Jonathan hit me up to tackle Oregon, I got a little freaked out. First off, I'm from Michigan. Who am I to go after my adopted state? And then it hit me: I've been here longer than I was in Michigan. I'm 41, and have been 'Out West' since I was 19. Warranted? Hope so. I just don't want to let the place down, you know?'"
To the residents of these nine states: Contact your elected officials. Make this a reality.
Illumine8 Marketing & PR is a Frederick, Maryland-based firm that combines the power of business development strategy, marketing creativity, and customer-focused sales to deliver sustainable and measurable results.